Our approach is simple: Early childhood and Family Support must be about both lifelong health and readiness to succeed in school. That's why over half our staff, who first participated in programs, are now full-time employees and most in college. ParentChild+ (PC+) shares our vision and is one of many reasons we are so excited to transition home-visiting to this model!
The model is simple, effective and:
AT NO COST FOR FAMILIES
OFFERED in SPANISH and ENGLISH
We visit families with a child(ren) where they live. Ages 18 - 36 months. 
We hire local
We help children become better students, and parents become their first teacher.
We help families become self-sustaining.
When families graduate, they gain access to one of our 5 Star rated Spanish Immersion Preschools, the critical next health and educational step.
Early learning specialists (home-visitors) live or work in the neighborhoods with the families they serve,  sharing language and cultural backgrounds. We look forward to seeing you several times a week for about 30 minutes, with new books and toys for you to keep! Please see the core model below and email Aurora Swain at aurora.swain@familiesfirstcc.org or call the main office at 704-786-5613. 
We Visit Families Where They Live
Our in-home approach makes it convenient for underserved families isolated by poverty, language and literacy barriers, and lack of transportation to participate in high-quality early childhood education.
Over the course of two cycles, families receive 92 home visits and acquire a library for free of:
46 high-quality books and educational toys
46 curricular guide sheets with tips on vocabulary-building, engaging conversation, skill development, social-emotional
development, imaginative play, and literacy, music, and art
activities.      
We Hire Local
Each family is matched with a community-based early learning specialist who shares their culture and language and visits with them twice a week. The early learning specialist models reading, conversation, and play activities to stimulate parent-child interaction and promote the development of verbal, cognitive, and social-emotional skills critical for children's long-term success. Our ELSs support families and their definitions of success, always highlighting parent's strengths and role as the teacher. 
We help children become better students, and parents become their first teachers.
ParentChild+ empowers parents to put their children on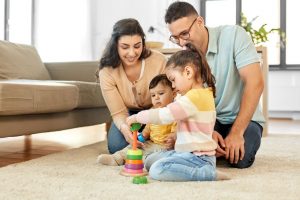 the path to school and life success, dream for their children's futures, and take pride in their educational accomplishments because parents make them happen. Parents will always be a child's first teacher. Our goal is to help parents recognize and nurture their strengths to set their children on a path to success.
We Help Families Become Self-Sustaining
Aurora, our Director of Operations and PC+ supervisor, has more than 15 years of experience in home-visiting and parenting programs with nonprofits. Now, she co-founded Families First and quickly was awarded the National Parent Educator of the Year 2017. She defines her success only through the stories of families' successes. Through tightly knit bonds and strong, lasting, and trusting relationships, we connect families to a wide range of community resources and programming, including food, housing, health care, and educational services.